2018 Dates
April 14

May 12

June 16

August 18

September 22

October 13 (make up date)
Summer 2018 ($TBD): 5 Days North Georgia-North Carolina Climbing Camp

Key West Tour-Camp (TBA)
Past Events
---
Cycling Camps
November 9-11, 2018 ($455): 3 Days Heartland of Florida Camp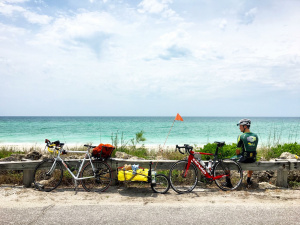 3 day camp starting from Florida Polytechnic University on November 9, 2018. This route will include lightly traveled country roads with views of open ranches, lakes, sandy beaches, crystal blue waters of the gulf of Mexico, the Peace River, rolling orange groves, and much more of Florida's undeveloped land. Come see some of Florida's small towns and quiet beach roads on this journey that will prelude to the longer excursion down to Key West! Each day will be 75-125 miles. 
View additional details and register here for this camp
December 8-9, 2018 ($255): 2 Days Tampa-Crystal River Camp
        2 day camp starting from Tampa leading to Crystal River and back. This route will include 5 different bike trails (Upper Tampa Bay Trail, Suncoast Trail, Withlacoochee State Trail, Upper Tampa Bay Trail, East Lake Trail) totaling over 100 miles of the entire 220 mile route. Each day will be 105-115 miles. 
View additional details and register here for this camp
---
Training Events
January 27, 2018 ($25): 2 Hour Cornering and Race Preparation Day
Fine tune your race skills before the first FloridaCycling.com race weekend in Gainesville

Learn and practice cornering and handling skills for criterium and road races

Learn how to master a turn-around in a time trial

Get hands on advice and feedback from Coach Perezluha

Get the "kinks" out before the first race (bike equipment malfunction, chains dropping, water bottle cages, etc)

Develop a plan for the first race (as individual or teammate)

Avoid crashing your first race of the season and avoid trip to hospital and broken bike
Race Preparation Training Day Flyer
Race Preparation Training Day Video (1-27-18)
---
Training Events Photo Gallery