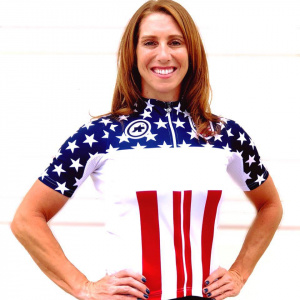 From State to National Champion
June 18th, 2018
Let's Start Coaching!
          When I talked to Jeanine about coaching her back in March and training for the Masters Nationals, I was a bit on the cautious side as I knew that with less than 3 months to prepare, I would not be able to attain my fullest potential as a coach. After she won the State Time Trial, I started to become excited about coaching her to become a National Champion. When I finally started coaching her in mid April, with just under 2 months to go until the Nationals, we sat down and talked and said: "this is going to be a time crunch to get to know you as an athlete and get you to win a National title, but let's give it our best shot and if we pull it off it would be something else!". Given I had known Jeanine for a while from racing and knew she had a strong work ethic and had the tenacity of someone who really wants it, I was in for this mission to help her become a National Champ! We had talked about maybe just doing a partial coaching plan but then I started to really think: "do we want to be on a podium spot at Nationals or go for the gold?!" Let's go all in on this!
Can this be pulled off?
          One of my biggest concerns about training her for the National Road Race was that in south Florida, there is really no way to prepare for the hills that would be the demand at the Masters Nationals in Augusta, GA. Also, the Nationals road race course is not breezy like the south coast of Florida. Instead, it is super hot and humid and also does not have much air flow being secluded on a military base. 
         Again, I said we will give it the absolute best shot we can with less than 2 months and see what we can do. With some tough big gear intervals, time trial work, sprinting work, and hard group rides with strong riders and wind, we started pushing her to go after it! With less than a month from Nationals, Jeanine had her best 20 and 5 minute power output ever and I was more than excited that we were on the right track. One thing I was still worried about was that I wasn't sure how Jeanine's body would respond to big training blocks and recovery. But rather than make any excuses, we began to find her limits, how she responded to recovery, and prepared her to peak. 
         Three weeks before the nationals, Jeanine came up to the hills of Clermont to knock out a hard hilly national road race course simulation. While this was a little foreign to her, I could tell she had been training really hard and had the drive to go for a win at Nationals. This concluded one very hard training block and I could tell she needed to rest!
         At one point we had to really force her to recover and start backing off, one of her weaknesses I picked up on fairly soon after coaching her. She always completed everything I gave her and sometimes really needed to be told to rest. The training demands were tough as I was training her to be an all-arounder, which meant a variety of training to get ready for each event (time trial, road race, and criterium). Now of course we can prepare as best as we can, but sometimes life throws unexpected wrenches in the training plan, first being her power meter dying and second, the worst imaginable news, was her mom was not doing well at all. Being a full-time single mom and personal trainer herself didn't make things any easier!
When things don't go as planned
          No power data…. One thing a coach hates to see. With less than two weeks from the Nationals, Jeanine's power meter broke. I have blown off power sometimes too, knowing that I can trust my body and that ultimately in a race scenario, it is the fastest athlete that wins, power is after the fact. However, given this was a time crunch and we had less than two weeks to go from Nationals, not having power didn't just mess up a single ride, it started to mess up the Training Stress Balance (also known as Form or TSB). TSB is an accumulation of an athletes training data which takes into account Chronic Training Load (CTL) and Acute Training Load (ATL). CTL represents the athletes training stress from the last 6 weeks and ATL represents the last 7 days. Both CTL and ATL come together to get an athletes overall Training Stress Balance which helps to structure hard training blocks and gear recovery and tapering for a peak event like Nationals. From the time we started training, I plotted out her training and her training stress balance in a strategic way to get her effective hard training blocks in which would get her in tip top shape but also include proper rest to have her best performance at the Nationals.
          Cycling is a sport nowadays that in order to ensure the most effective coaching, comes with improved technology and accurate data. Sometimes this can become overwhelming especially when technology starts to have problems and not work. One of the biggest motivation techniques I preach is to remain calm and keep it simple when things go wrong. It's natural to freak out and panic and think you have to rush out and get a new power meter immediately but in this case, it was much more simple and less stressful to just accept there would be no power going into nationals. 
Rough start to the Nationals
          Right as the Nationals began, Jeanine's mom was in the Intensive Care Unit in a coma and not doing well. The Master's Nationals started off with a time trial at 2:00pm, Thursday with 97 degree temps and a heat index of 107 degrees. She did not perform her best time trial and being very distraught about her mothers condition, she had already had enough of the Nationals. Wanting to see her mom soon, Jeanine booked the next flight to Chicago for Saturday evening to go see her mom as time was of the essence and decided she was going to skip the road race. Of course, myself and her team wanted her to see her race but supported her 100% of not racing and going to visit her mom.
          Concluding Friday with a prayer for her mom, Jeanine ended up hardly sleeping and cried a lot throughout the night. After a very emotional night, she woke up not quite knowing what to do. Not having talked to almost anyone and not wanting to let anyone down, Jeanine started to find a second skin from the emotions. Given that her flight was Saturday night, she still had the ability to race. Her teammates persuaded her to consider doing the road race as just a workout, not expecting a result.
           Meanwhile, I had accepted Jeanine was not racing and started to get sad seeing someone train and work so hard and then have bad luck and have to back out of a big event. After all, family is number one and bike racing is simply riding around in circles to see who can be the fastest. However, coming from a family with a very tough work ethic and conquering what they set out to accomplish, Jeanine was staying to race. Jeanine's brother also told her to stay and race, also in heavy distraught of the whole situation. 
           With a strong support system by her side, Jeanine lined up to start the National Road race. With her mom's spirit in her flesh and not knowing whether she'd see her again with an unknown fate, thoughts began to flood her mind as she raced. Oblivious to power or pain, Jeanine channeled the thought or her mom being out of pain into her own body blocking out the pain in her race. 
Pleasant Surprise
          Out on the town on the bike getting some late night food in Girona, Spain at the time, I got a text from a friend showing Jeanine  in a National Champ jersey. The first thing I said was… "wait…. are you sure this is real? I thought she wasn't racing." I then scrolled through Facebook and realized she had stayed to race, and took the National Road Race win in a stellar fashion! I felt the passion and dropped a tear when I later saw her post where it read: "for my mom". Jeanine ended up going on to win the overall award for her age group (40-44) for the Time Trial, Road Race, and Criterium. It wasn't until well after the road race when Jeanine got news that her mom took a miraculous turn for the better. And best of all, after Jeanine's Nationals had concluded, she was able to go see her mom out of her coma and open her eyes. Almost like they had both completed their battles at the same time, Jeanine and her mom were united again after the struggles.
          The first thing I started to wonder was how she won? Given she had no power meter, I didn't exactly see how she managed her effort but like I said earlier, racing for the win brings out the smartest and fastest rider, not necessarily the one who puts out the most power, that is usually after the fact. Moreover, champion's come from those willing to take risks and race their hearts out. Jeanine had launched the sprint of her life from 500 meters to go at the top of the final hill and took it home for the win. One of the best things I liked about coaching Jeanine was that she knew how to race her bike and had guts. I could prepare her the best I could with her power numbers and training stress balance and get her to peak but like the old saying says: "you can lead a horse to water, but you can't make him drink". And in this case it was to prepare for Nationals and I left it to her to FIND THE CHAMPION WITHIN! I was pretty confident in our training and Jeanine's race savvy and skills she built on her own that if she was rested, she could finish the job off! After all, this was her race and goal she set out for, and I am just one of the resources to help her conquer it! Jeanine left Augusta as a National Champion and I can assure you the spirit of her mom will remain in that stars and stripes jersey for the rest of her life. I am glad I was able to hop in on the journey to get Jeanine from State to National Champion~ in about 8 weeks.
---
---
P.S. Remember: If you are looking to begin coaching, it doesn't matter what goal you have, if you want it bad, I want to see you accomplish it just as bad!