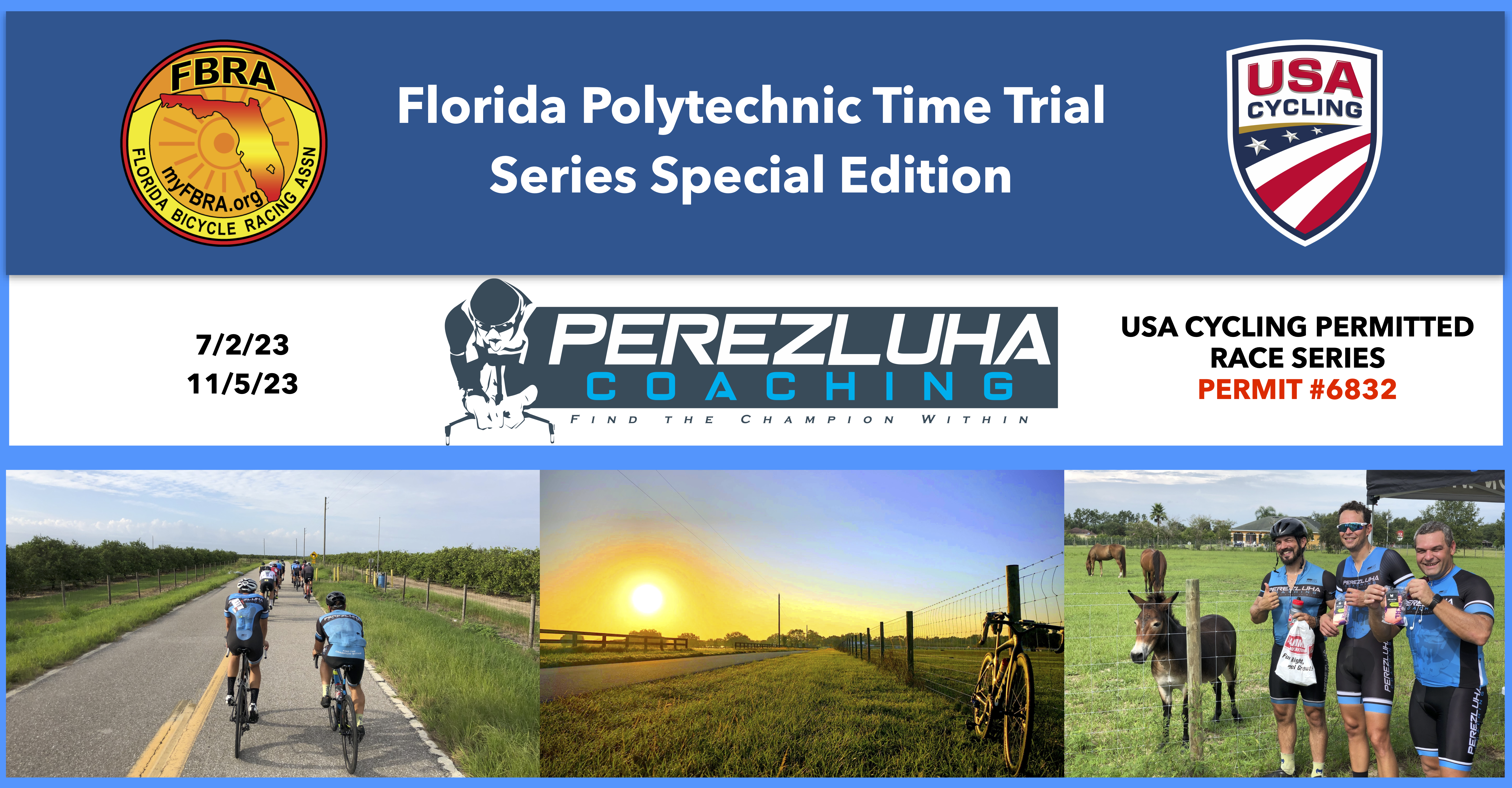 ---
BikeReg Registration Link (11-5-23)
---
Register for the 2023 Florida Polytechnic Time Trial #10 (11-5-23) 8.5-Miles Special Edition ($35)
Register for the 2023 Florida Polytechnic Time Trial #10 (11-5-23) 8.5-Miles Special Edition + One Day License ($55):
2023 DATES:
Description:
This is a special edition 8.5 mile time trial route! The location of this time trial is one of my favorite roads in all of Florida known for its old country bike trail style road feel accompanied by the fresh smell of orange groves and the real Florida vibe.
---
Start Location:
We will be starting the time trial on Old Lake Alfred Road just south (0.25 miles) of the junction of Old Lake Alfred Road and 557A. Not only is Old Lake Alfred road beautiful, but there is almost no traffic here.
Address (.25 miles south of here):
131 Old Lake Alfred Rd, Lake Alfred, FL 33850
Parking:
Parallel on Old Lake Alfred road ~0.25 miles south of the junction of Old Lake Alfred Road and 557A.
*IMPORTANT NOTE: Parking will be limited so please try to car-pool if possible. 
**DO NOT Park in front of house at northern end of Old Lake Alfred Road near JCT of 557A and Old Lake Alfred Road.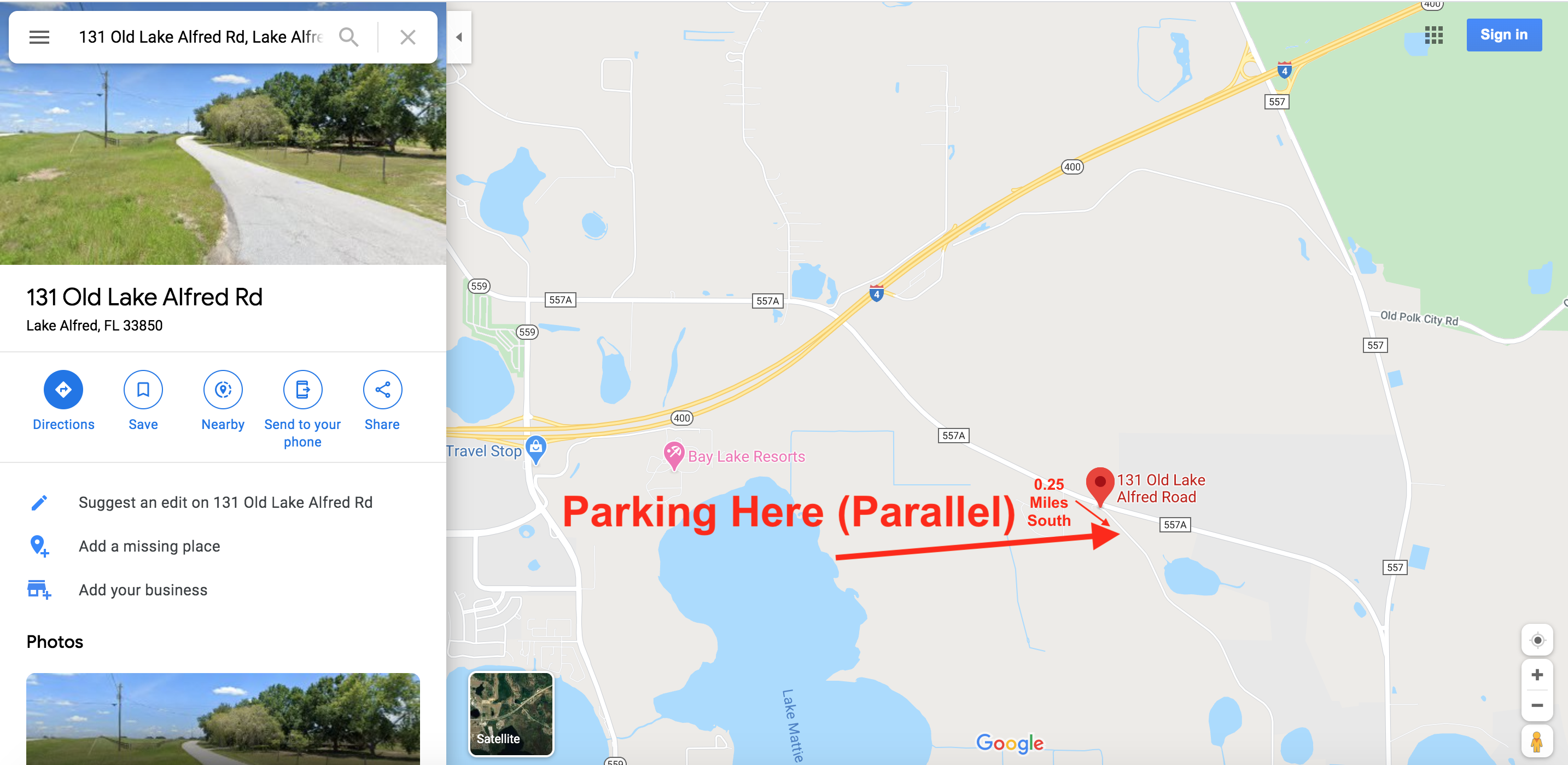 7:00-7:15am: Arrive
7:15am: Registration Opens
7:15-7:45am: Registration (Registration will be open 7:15-9:00am for time trial bike and recumbent categories)
7:45am-8:20am: Structured warm up with Coach including course preview, safety briefing of u-turns, warm up tips, pacing tips for race, and wind forecast. This is a unique and valued offering that will significantly help participants perform at their best and enjoy the event
8:30am: Racing (Wave 1) begins with the following categories in this order:
         1. 15-Kilometer racers (start at u-turn 2)
          2. Handcycles 
          3. Paracycles
          4. Juniors
          5. Women Road Bike
          6. Men Road Bike 
9:10-9:20am: First Set of Results/Podiums/Awards
9:30-9:40am: Racing (Wave 2) begins with the following categories in this order:
         1. Women Time Trial Bike
          2. Men Time Trial Bike
          3. Recumbent 
10:20-10:30am: Second Set of Results/Podiums/Awards
11:00am: Group Ride Begins
*Time Trial start list will be posted on Facebook by 9:00pm the night before and also the website below
---
Course/Route:
Link to special edition 8.5 mile TT route
This route is 8.5 miles with the turn around half way through at the 4.25 miles mark. This route have rolling hills and a few straightaways and bends making this a challenging and exciting course! Riders will go through orange groves and next to lakes for the "Real Florida" feel.
The start time will be 9:00am promptly for the first rider off and we will have a course warm up preview ride starting at 8:00am.
---
Registration:
$35 entry or $50 w/USAC One-Day License

$40/$55 late entry (day before) or on site

PayPal pre-registration, BikeReg registration, or on site

***USA Cycling Membership Required- $15 for one day license 
Registration will be open 7:30-8:00am but Pre-Registration is highly encouraged here:
---
2023 Results:
Series #6 (7-2-23) Special Edition
2022 Results:
Series #6 (7-3-22) Special Edition
Series #10 (11-13-22) Special Edition
2021 Results:
Series #6 (7-11-21) Special Edition
Series #10 (11-7-21) Special Edition
2020 Results:
Series #10 (11-8-20) 8.5 Mile Special Edition Time Trial
Series #5 (7-5-20) 8.5 Miles (Special Edition)
2019 Results:
Series #10 (11-10-19) 8.5 Miles (Special Edition)