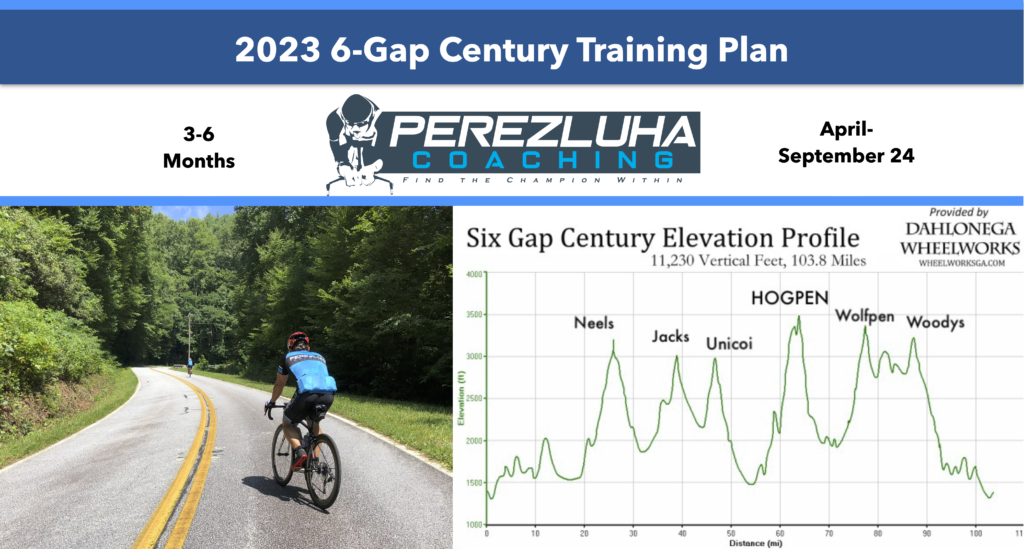 4 month Six Gap plan weekly feedback ($429):
*After paying, you will receive a confirmation email to your PayPal Email with more registration info. All transactions include a PayPal fee of 4%. Avoid PayPal fee by paying via Venmo (@Steven-Perezluha) or PayPal Friends and Family to (StevenPerezluha@cfl.rr.com)
---
Objective:
Get into the best mountain-climbing shape possible and ride at your very best in the 2023 3 or 6-Gap Century Ride on September 24, 2023.

Improve your FTP, all-around power, power to weight ratio, climbing efficiency and ability, and pacing.

Conquer the toughest climbs in Georgia for first time or improve upon previous efforts.

Ride or compete in the 3 or 6-Gap Century ride with confidence and go into this event with the best possible preparation.
Cost:
$339-$699 (3-6 Months)
*TrainingPeaks Premium required
What's Included:
Training Plan – You will receive a customized 3-6 months training plan with 4 training days per week starting April-June 2023 and ending September 24, 2023. This training plan is designed to improve hill climbing power, endurance, threshold power, mental toughness, recovery, climbing efficiency, and pacing up hills and climbs.
Phone Calls/Feedback – You will weekly feedback and phone calls.
Data Analysis – You will receive feedback on your power, heart rate, speed, and training data.

 

Advice for Day of Event – You will receive specific advice on what equipment, gearing and clothing to use specifically for this event.
Questions: Steven Perezluha, stevenacrossamerica@gmail.com, 407-619-5304
Registration & Additional Details: 
Training Plan Registration:
3 month plan weekly feedback ($339) 
---
3 month plan daily feedback ($399)
---
4 month plan weekly feedback ($429)
---
4 month plan daily feedback ($509)
---
5 month plan weekly feedback ($509)
---
5 month plan daily feedback ($619)
---
6 month plan weekly feedback ($599)
---
6 month plan daily feedback ($699)
*After paying, you will receive a confirmation email to your PayPal Email with more registration info. All transactions include a PayPal fee of 4%. Avoid PayPal fee by paying via Venmo the training plan price $339-$699 (@Steven-Perezluha) or Zelle (Stevenacrossamerica@gmail.com)
---