Start List:
50-54, 50-59, 60-64 Categories Start List (7:00am and 10:00am) 

65-69, 70-74, 75-79, 80-84, 85-89 Categories Start List (8:00am and 11:00am)



Overview:
I am excited to be hosting the Florida State Senior Games Time Trial Championships for the 2nd year in a row on December 3rd, 2023 at our Florida Polytechnic Time Trial location! Rider's 50 years and older will compete for their personal best times in the 10.0km/6.2 mile and 5.0km/3.1 mile courses. The course includes long straight aways and mainly flat with a small incline leading into the U-turn. Riders will compete in each age group going for their best effort and competing within 5 year age brackets.
Categories and Styles (Ages 50+)
Open to all ages 50+. Riders to go off youngest to oldest within combined age groups:

50-54, 55-59, 60-64

 

65-69, 70-74, 

75-79, 80-84, 85-89, 90+

Youngest combined age group will start first

Order per age group: Men-Women-Recumbent

Recumbents Permitted; placed in age groups
Date:
Warm Up and Race Start Time:
6:00-6:30am: Packet pick up for 50-54, 55-59, 60-64 10km racers (Packet pick up/check in is open throughout the day after 6:30am until 10:30 am for all other age groups)

7:00am-9:00am: Age groups 50-54 to 90+ (Last Group)
10KM Course. Men-Women-Recumbent
7:00am-7:45am) 50-54, 55-59, 60-64

8:00am-8:45am) 65-69, 70-74, 75-79, 80-84, 85-89, 90+

9:15am: Awards 10KM Course
5KM Course. Men-Women-Recumbent
10:00am-10:45am) 50-54, 55-59, 60-64

11:00am-11:45am) 65-69, 70-74, 75-79, 80-84, 85-89, 90+
12:15pm Awards 5.3KM Course
*Start times subject to change per participation total
The TT Race Course:
Very little traffic, long straight aways, and bike lanes

Perfect power test location
---
Location
Florida Polytechnic University: 4700 Research Way Lakeland, FL 33805 (Time Trial start is location outside of the actual campus; the exact start location and parking area is below)

Parking: On Research Way near the west junction of Research Way and University Blvd. This is just west of western entrance to Florida Polytechnic University. Parking is free.

Overflow Parking: Southern parking lots #6 and #8 on the Southern end of Florida Polytechnic University on Research Way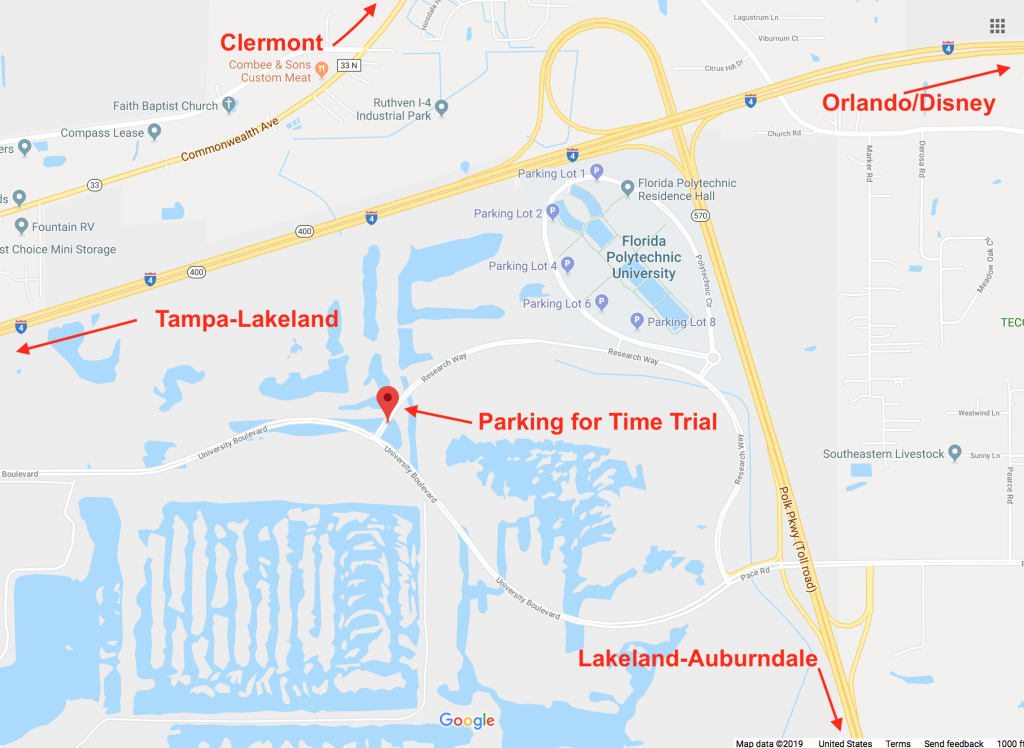 Restrooms:
6 Porta Potties on site. Closest indoor restrooms near course are:
1. 7-11 Lakeland Highway 33 (4-minute car drive/western end of course)
https://goo.gl/maps/1iqgnkvyfVrJPczEA
2. McDonalds (10-minute car drive away)
1801 FL-559, Polk City, FL 33868
3. Loves Travel Stop (10-minute car drive away)
1800 FL-559, Polk City, FL 33868
---
Registration
Florida Senior Games Registration
---
Results
10KM Men and Women Age Groups:
50-54, 55-59, 60-64
65-69, 70-74,

75-79,

80-84
5KM Men and Women Age Groups:
50-54, 55-59,

60-64
65-69, 70-74, 75-79, 80-84
---
Pace Charts:
---
2022 Florida State Senior Games Flyer (Coming Soon!)