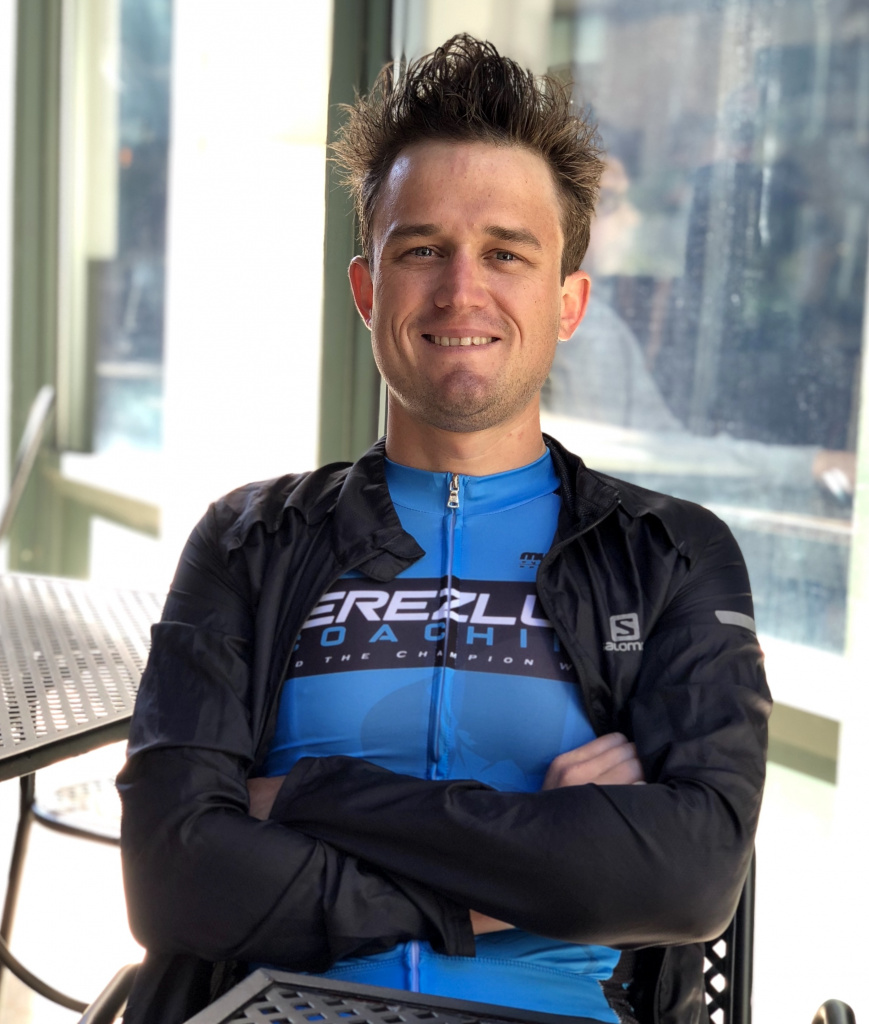 Where it All Began
Childhood
       At an early age, I was a noticeably restless kid with some restless behavior problems throughout elementary school. While some said I should be medicated for this restless behavior, my parents and I believed in naturally curing this problem. The solution was quite simple. One doctor recommended running me wild, unleashing my energy in exercise to calm my wild behavior. This is indeed what I did. I started out on a swim team in 3rd grade and transitioned into Pop Warner football in 5th grade. I loved to hit people in football and started to enjoy the feeling of accomplishment I would get at the end of a day's hard practice. In the 2nd year of Pop Warner football my Coach David Haines died. This tragic happening took place just a few weeks before the end of the season.  Before he died he gave my entire team a plaque of Vince Lombardi's famous speech, "What It Takes to Be Number One." Being an 11-year-old at the time, I had no idea what an impact this speech would bring later down the road in my life. The following words have stayed with me throughout all of my struggles and efforts since the day I read them:
"I firmly believe that any man's finest hour, the greatest fulfillment of all that he holds dear, is that moment when he has worked his heart out in a good cause and lies exhausted on the field of battle – victorious."
-Vince Lombardi
      This incident changed my mentality for the rest of my life. Rather than think of football and exercise as fun and games, I turned my mentality into giving absolutely every ounce of energy and effort into my athletics. Giving a 100% effort into any race, competition, or challenge that arises in life and leaving nothing behind in training. To train and push my body like there is no tomorrow. While this may be some of the most painful experiences at times, the feeling of triumph and joy after pushing through these painful experiences is all the more gratifying. The euphoric high that arises from concluding a long and hard fought goal is the greatest. A feeling like I do not want to be anywhere else on the planet at the time. No drugs or alcohol needed, just the triumphant feeling of physical exhaustion for a good cause.
High School Years
      My drive for exercise started in 8th grade as I slowly transitioned from Pop Warner football to running. Weightlifting also started in 8th grade. I would love the feeling of exhaustion at the end of the day and began to understand the concept of the natural high feeling. I continued to want to go further and further. 1600-meter, 3200-meter, and 5K races just would not cut it in High School cross-country and track. I loved the high mileage. My favorite schedule was one that I would make up which consisted of 70-100+ mile weeks over the summer. In 10th grade I got an award called the "Golden Shoes" award that was given out to the high school runner running the most summer mileage. I ended up running 700+ miles in the 10-week period. The golden show plaque read a powerful quote that I have become more and more connected to ever since I read it:  
  "If the miles behind me could be put into words before you… you would feel my efforts, my struggles, my desires, most of all you would see my joy…Watch me from afar run the trails and hills and miles upon miles and you will see…"
-a runner
       As high school progressed I found one my biggest inspirations in high school came from a movie and book, based on a true story:  INTO THE WILD. I became moved deeply by this story and I could feel for Christopher McCandless and his desire to trek across the country by foot and eventually live off the land in the Alaskan Wilderness. Unfortunately, McCandless ended up dying in the Alaskan Wilderness. But from the book I understood his motives and the concept of man becoming at one with nature and the road. I began to apply the meaning I took away from this book to drive my own goals and passion. 
  "The sea's only gifts are harsh blows and, occasionally, the chance to feel strong. Now, I don't know much about the sea, but I do know that that's the way it is here. And I also know how important it is in life not necessarily to be strong but to feel strong, to measure yourself at least once, to find yourself at least once in the most ancient of human conditions, facing blind, deaf stone alone, with nothing to help you but your own hands and your own head…"
-Christopher Johnson McCandless (Into the Wild movie)
       This discipline I had in my running and exercising drove me to working hard not just in my athletics but also in schoolwork. I maintained a 4.0+ grade point average throughout all of high school and ended up graduating magna cum laude.     
After High School
       On June 8, 2009, I left on a journey which led me 1,259 miles up to Pittsburgh, Pennsylvania via bicycle where I met my uncle, Danny Chew. From there we departed for Alaska, crossing the border 47 days and 5,115 miles later. This was an unforgettable journey which really gave me an appreciation for the land on two wheels of a bicycle. Accomplishing the trip to Alaska was a great triumph and confidence builder, leading to a mentality to never give up on a dream or journey. The trip totaled 13,769 miles starting in June, 2009 and ending October 31st, 2009. 
       The summer of 2010 led my Uncle and I on another cross-country adventure, this time from Florida to California and back. This trip came to a halt on just the second day, when I got hit by an S.U.V. near Newberry, South Carolina. Refusing to let this stop me from my journey to California, I reluctantly got driven up to Pittsburgh from the middle of South Carolina. Driving on the familiar and gorgeous Blue Ridge Parkway in North Carolina was not the same as it had been on a bicycle one year before. Allowing myself to recover was a lesson of self-control and patience. Luckily, it was later clarified by a Pittsburgh Sports-Medicine doctor to be deemed healthy. This trip ended up being 61-days and 7,737 miles with many new unforgettable moments meeting many new amazing people. While there were many great highlights to this trip, the Northwestern California Coast was an amazing area. They call it the epic "Lost Coast" as there is miles and miles of undeveloped coastline with cows crossing the road freely from pasture into the ocean.
Racing and Coaching
        During the fall of 2015, I started coaching athletes in cycling. It began with training one on one with a father and son who were coached by my own coach, David Guttenplan. I began giving these two specific instructions on their training rides which led to them accomplishing their training goals. From there onward, I continued finding athletes that wanted to challenge themselves and push them further in the sport of cycling. I began to find my true passion and career goal of wanting to become a cycling coach. Being coached by Bob Tyler in 2013 to my 3rd place at the Under 23 National Time Trial, I know all about the discipline it takes to follow a training plan and execute results. I also know the pain and suffering it takes to accomplish a long hard fought goal. Throughout all the miles across the country, I've developed a mindset to never back down from a goal until accomplished. This is the tenacity I instill in the people I coach to become champions. With hard work and guts comes brains and smart training. Combined with graduating from U.C.F. in the spring of 2017 with a Sports and Exercise degree in Coaching, I am determined to make an impact as a coach. As a coach, I will help drive and motivate people into accomplishing their biggest goals they did not think were possible. 
Read more about my racing blog here
Learn more about my Coaching Here: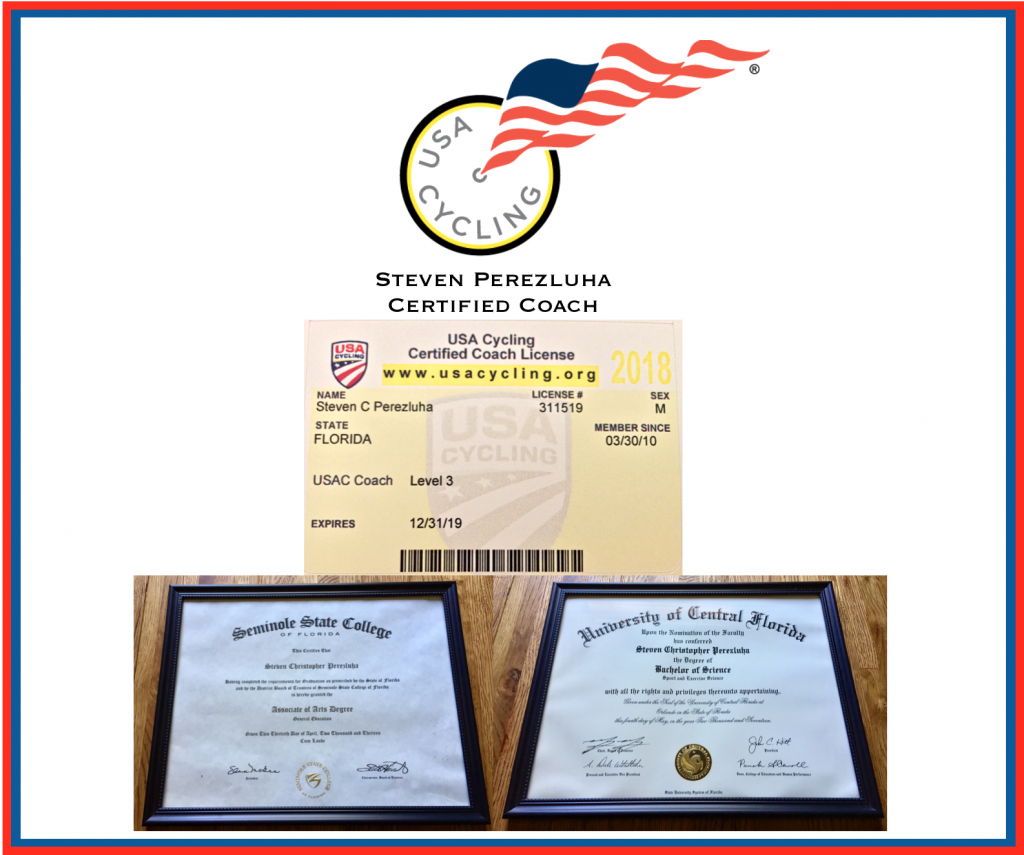 ---
Cross-Country Adventures
13,769 mile journey from Longwood, FL to Alaska and back
Florida to California and Back
63 day and 8,246 mile journey from Florida to California and back
---
Flexibility
My Other Physical Talents:
       I have always been super flexible since I was a young kid. To this day, I have the ability to twist myself into a pretzel and bend into other unique positions. The major flexibility is not so much in the back but rather in the legs, hips, and torso. I can still pull my feet backwards to my head, although the high mileage on the bicycle bent down on the handle bars most likely strains or limits this flexibility. My flexibility came largely to my advantage as a wrestler and I was able to avoid getting pinned pretty much throughout all of high school. During the three years I wrestled in high school, I wrestled over about 80 matches and only got pinned two times. Sometimes referees had to blow the whistle and put the match to a halt because they were afraid I was bending too far. Little did they know that this was not hurting me; I was simply using it to my advantage.  
       I am also good at climbing trees and used to love to climb up and dangle in trees for hours when I was younger. I loved climbing around and dangling on playgrounds and metal bars as well. I can make a complete workout without touching one weight or going into a gym, by doing push-ups, pull-ups, sit-ups, bicycling, and climbing trees. I love the outdoors and warm weather.  
       I tend to do a lot of high-repetition and long-endurance weight workouts, and prefer to be lean and durable over big and bulky. I would also consider figure body-building down the road one day. I have a quick recovery time so I can pound myself with medium- to high-intensity efforts and recover and continue on with many more sets. In weightlifting I tend not to "max out" in any exercises and often the lowest amount of repetitions I will do is three to five. My hard efforts and recovery time are the same for bicycling intervals. I am not the best sprinter or max power producer, but I can hold a long sprint and endurance effort.