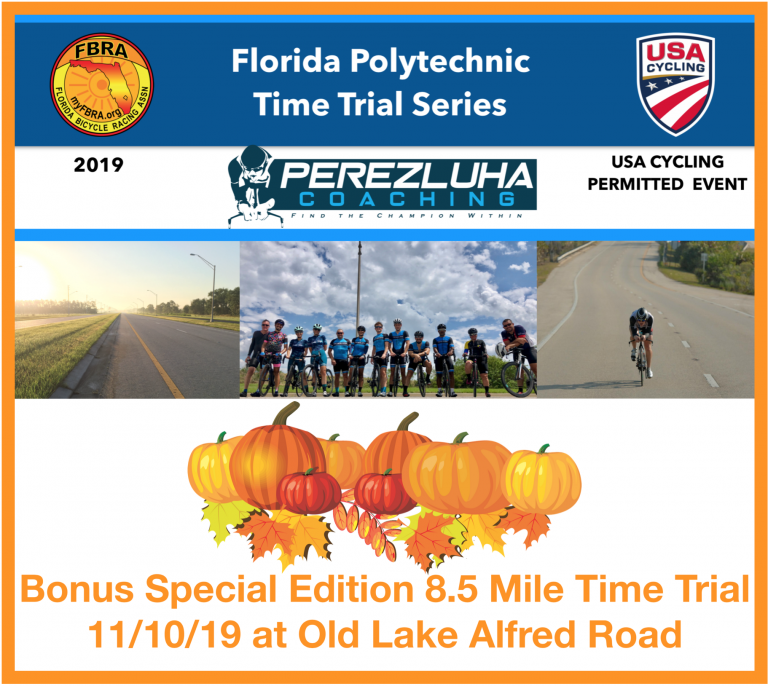 REGISTER FOR THE SUNDAY, NOVEMBER 10, 2019 TIME TRIAL HERE VIA PAYPAL:
Description:
This is a special edition 8.5 mile time trial route! The location of this time trial is one of my favorite roads in all of Florida known for its old country bike trail style road feel accompanied by the fresh smell of orange groves and the real Florida vibe.
---
Start Location:
We will be starting the time trial on Old Lake Alfred Road just south (0.25 miles) of the junction of Old Lake Alfred Road and 557A. Not only is Old Lake Alfred road beautiful, but there is almost no traffic here.
Address (.25 miles south of here):
131 Old Lake Alfred Rd, Lake Alfred, FL 33850
---
Parking:
Parallel on Old Lake Alfred road ~0.25 miles south of the junction of Old Lake Alfred Road and 557A
Restrooms:
There will be no restrooms located at the TT start. The closest restrooms are:
1. Loves Travel Stop:
1800 FL-559, Polk City, FL 33868
2. I-4 rest area 
I-4 Rest Area, Polk City, FL 33868
---
Route:
Link to special edition 8.5 mile TT route
This route will have rolling hills and a few straightaways and bends making this a challenging and exciting course!
The start time will be 9:00am promptly for the first rider off and we will have a course warm up preview ride starting at 8:00-8:15am.
---
Registration:
Registration will be open 7:30-8:00am but Pre-Registration is encourage here: