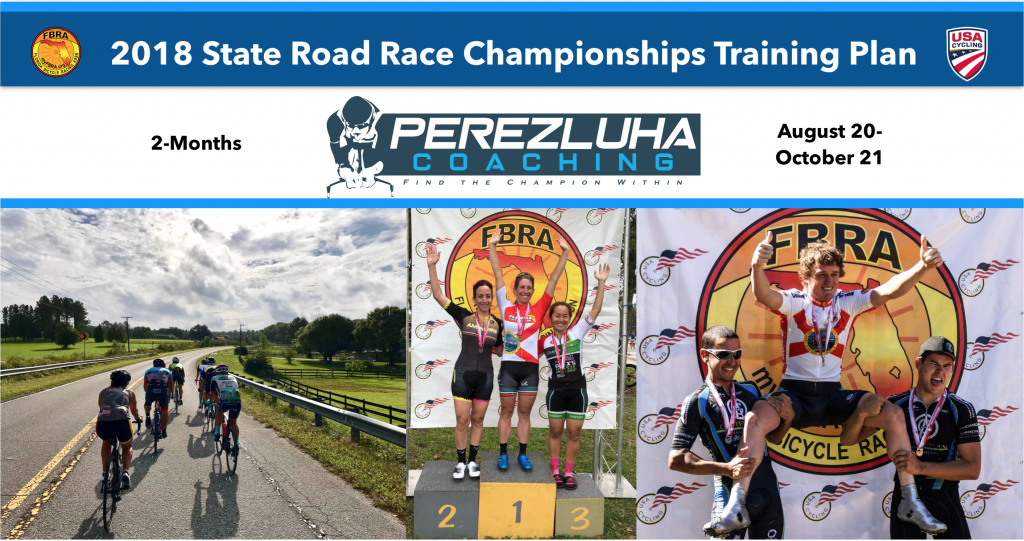 Objective:
Perform your best at the State Road Race.

Develop better hill climbing ability and come into the state road race ready to win!

Improve your FTP,

 

hill climbing efficiency, all-around strength and ability, and learn the art of winning!
Cost: $189
What's Included:
Training Plan – You will receive a customized 3 months training plan starting August, 2018 and ending October 21, 2018. This training plan is designed to maximize your road racing abilities and to learn valuable techniques specific for this event.

Training plan features key state road race workouts with course and hill simulations to prepare for the Florida State Road Race.

Data Analysis – We will analyze together during our phone and video calls your power, heart rate, speed, and training data.
Phone Calls – You will receive a weekly call.
FaceTime Video Calls – You will receive 2 video calls.
Advice for Day of Event – You will receive specific advice on what equipment, gearing and clothing to use specifically for this event.
Coaching Recon Ride – We will complete this ride within one month before the State Road Race itself. This will preview the road race course and lay out execution plan for race day.
Training Schedule:
Each athlete's State RR plan can be customized based on allowable hours to train and their current fitness level. Duration will be adjusted to meet schedule demands.

Even if you only have 6-8 hours a week to train, we can fully customize your plan based on your schedule to maximize its benefit and get you prepared! The best feeling is going into a race trained and ready. Put the work in before and race more relaxed and confidently.
When/Where (Actual State Road Race):
Florida State Road Race (Age Group and Category Days)
October 20-21, 2018
San Antonio, FL
Training Plan Flyer:
2018 Florida State Road Race Championships Training Plan (2-Months)
USA Cycling Event Flyer:
Coming Soon!
USA Cycling Event Registration:
Coming Soon!